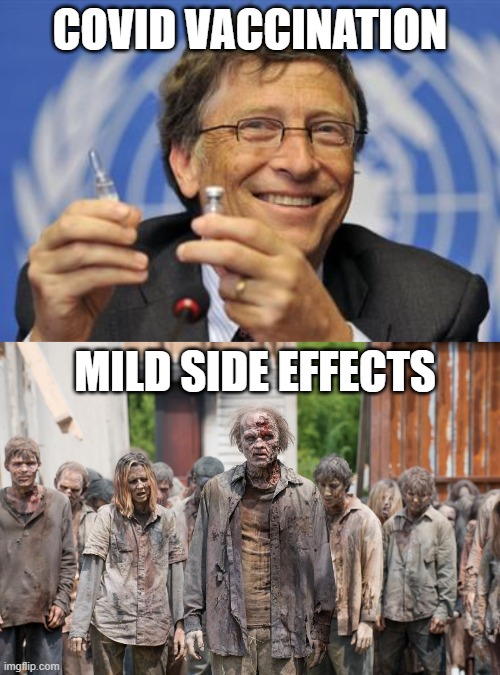 Have you gotten vaccinated for COVID-19 yet? If not, are you planning to? If you have, or are planning to, how do you think your life will change afterwards? If you're not planning to get vaccinated, why not?
Ok, before you all get your panties in a bunch over the meme, let me explain by answering the question in parts.
Have I been vaccinated for COVID-19 yet? No.
Am I planning to? Still on the fence. At this point, all questions have been deferred to my rheumatologist who admitted there are not enough studies of the effects on rheumatological/auto-immune patients however he feels the vaccine would be more beneficial than not. So I have not ruled it out, but I am not rushing to get it. I actually have to see him face-to-face next week, and am bracing for either a lecture on getting it, or a shrug that it is ok to wait.
How do I think my life will change afterwards? See meme above. And I have good reason to think so. As I may have mentioned in previous blogs, I do not get the "usual" side effects of ANYTHING. Kidney issues as a result of a tattoo; parotid tumor at 35 years old; tinnitus from some unknown cause – and not a faint ringing in the ears either – an overwhelming screeching in my head; and, still waiting for menopause symptoms even though the full hysterectomy which I was told was medically necessary occurred almost 6 years ago. So, I have no doubt that IF the vaccine has relatively unheard of side effects, such as sprouting a unicorn horn or becoming a zombie, I will be the one (and probably only) person to have that effect.
If I don't get the vaccine, why not? Other than for the reasons stated in the paragraph above, and although my doctors (all of them) have repeated ad nauseam that it is apples and oranges, I got the flu vaccine once. I got very, very sick with the flu. I have not had the flu (or even a bad cold) since. Also, my endocrinologist, who I swear reads his medical knowledge of stone tablets at times, said, under his breath, that I shouldn't worry about rushing to get the vaccine since I take hydroxychloroquine. Now, I know that sort of exploded as a "protection" last year and quickly faded, but I have been on hydroxychloroquine for some time and who knows, maybe there was some truth to that medication helping to protect against the virus. Regardless of all that I have said, I have been exposed to those known to have COVID and I have, alhamdulillah (praise God), not contracted the virus. It is for these reasons, I am on the fence about whether or not to get the vaccine.